Jersey union strike threat over States savings plans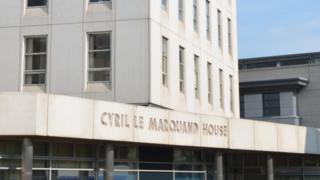 Public sector workers in Jersey could strike over plans to cut up to 200 jobs, according to the Unite union.
Nick Corbell from the union said a report claiming a number of services could be outsourced "came out of nowhere".
The report examines ways the government can meet its target of covering a £145m deficit.
John Rogers, chief executive of transport and technical services (TTS), said changes were needed.
A summary of the report was released after a Freedom of Information (FoI) request. The full report has not been released as it was deemed "commercially sensitive".
'In a corner'
Politicians voted on measures to save £145m as part of the four-year medium term financial plan (MTFP) including £70m through pay restraints and redundancies.
Mr Rogers said: "You can't sit in isolation and say nothing will ever change, you have to work with the marketplace.
"The MTF has committed to a £145m saving target because our island needs more money spent on health and education.
"We have been tasked to do that and you cannot do that level of savings without having an effect on staff. You cannot keep things as they were in the past forever."
Mr Corbell said staff were being backed into a corner and may have no option but to strike. He said the proposals would impact on all civil servants.
"This report, which they have sat on is suggesting that large parts of the public sector be privatised.
"TTS belongs to the public, why should we hand it over to anyone?
"The chief officer of TTS has said up to 200 redundancies could occur. They haven't spoken to us yet.
"They could work in the private sector but there benefits would be slashed, their pensions would be slashed. They would be backed into a corner."