Jersey care inquiry: Ex-CID boss denies child porn cover-up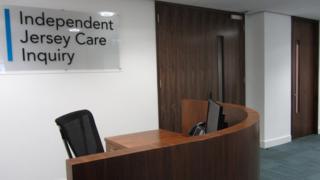 A former head of CID in Jersey has denied suggestions he told a colleague facing arrest over child pornography allegations, to wipe his computer.
Andre Bonjour was giving evidence to the ongoing care abuse inquiry about the arrest of Paul Every a decade ago.
Every was convicted in 2006 of an offence involving indecent images of children.
Mr Bonjour told the inquiry: "I categorically and emphatically deny that I would ever do such a thing."
Every was arrested as part of Operation Ore - a national investigation into online child abuse images - and was sentenced for an online subscription to a pornography website he had had in 1999.
'Jersey way'
Mr Bonjour told the inquiry he had declared an interest when he was included in an e-mail about an investigation into pornography which named Every.
Details had gone to Mr Bonjour because he was head of crime.
He said he was given minimal information but he had Every's name, which he passed immediately to Supt John Pearson. He said he did not have any further involvement in the case.
Giving evidence to the inquiry two weeks ago Graham Power, the former head of police, said a warrant was issued but Every's computer had been wiped before his arrest.
Earlier in the day, former States of Jersey deputy Trevor Pitman talked about the "Jersey way", which he said was about the powerful establishment protecting the guilty.
When asked what he understood by the term the "Jersey way" Mr Pitman said: "That no one will be held accountable and lessons won't be learned."