Paris attacks: Jersey police patrol airport and harbour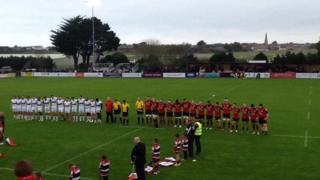 Jersey police will be patrolling the airport and harbour after attacks in Paris where nearly 130 people died.
The force said it was a "precautionary measure" which would continue "until further notice".
All sailings and flights would be "appropriately covered" by special branch officers.
Jersey's Bailiff, Sir William Bailhache, has offered his condolences to the French president following the gun and bomb attacks.
Jersey and Doncaster stood in a one-minute silence in support of France before their Championship Rugby match.