Jersey care inquiry: Graham Power gives evidence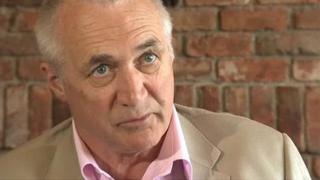 Jersey's government "lacked the skills" to deal with issues raised by a police inquiry into historic abuse in the island, the care inquiry hears.
Graham Power, who was chief of police when the inquiry began, was suspended but never disciplined.
He said: "Procrastination is a big feature of the Jersey way. I don't know what would constitute urgency in the Jersey Government machine."
Mr Power said decisions on anything difficult was "always put off".
He also accused the States of Jersey Police of having leaked information to criminal organisations before his appointment as chief of police.
He said: "The force had a history of inappropriate, illegal and unprofessional behaviour."
He was in overall charge of the police when its investigation into child abuse, dubbed Operation Rectangle, started in 2006.
Mr Power was suspended over his handling of Operation Rectangle and the subject of a £1m investigation by Wiltshire Police.
'Foot dragging'
He retired in 2010, while still suspended and the historic abuse investigation was continuing.
Mr Power told the inquiry that promoting local talent often meant people were in positions "where they weren't equipped" to carry out their tasks.
"If all you have known is Jersey you are not executive material in my judgment.
"It was a very frustrating environment for anyone who like to make things happen, an impossible environment almost.
"Some of the foot dragging was deliberate."
Mr Power said when he joined the force in 2000 most major crime operations were handed to Devon and Cornwall Police as "skills, training, experience was insufficient".
He said change was resisted by an "old guard", which were largely in country parishes and sections of the legal establishment.
This included moves to modernise the honorary police system, which did go through in 2005.
Mr Power said it was difficult with "cultural baggage" of honorary police having been the real police force and the new paid policemen were seen as a "threat" and the "political influence of the honorary system" was inappropriate.