Indian company Airtel in talks to buy JT Global stake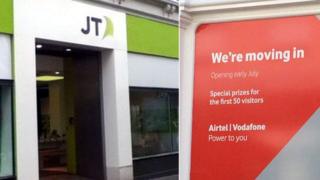 Indian telecom company Bharti Airtel is in talks to buy a stake in Jersey's government-owned company JT Global.
A joint statement said the two companies would merge operations, creating a single, larger group.
Before the merger can go ahead, approval is needed from the regulator and shareholders, including the States of Jersey.
The news comes as JT announced it now made more money outside Jersey than in the island.
The offer to buy the 25% stake was sent by the owner of Bharti Airtel, Sunil Bharti Mittal.
'Serious consideration'
Jersey's Treasury Minister, Senator Alan Maclean, who acts as shareholder representative for JT, said he met Mr Mittal to discuss the request.
He said: "I am satisfied that his offer is intended to develop and grow the JT business and build on his long term commitment to Jersey.
"Having considered the offer, the board of JT has confirmed that it views the offer as worthy of very serious consideration."
JT Global has a total turnover of more than £150m with profits in 2014 of about £9m.
Before any change in ownership can happen, it will have to be approved by politicians in the States of Jersey.
There are currently three mobile operators in the Channel Islands, JT Global, Sure and Airtel-Vodafone.