Parish fined £5,000 over lack of honorary police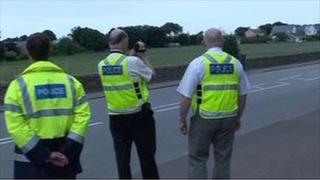 A parish in Jersey has been fined £5000 for not being able to recruit enough honorary police officers.
St Saviour parish was given the fine by the Royal Court because it has not found a new centenier.
The senior voluntary positions are the only officers in the island able to charge and bail offenders.
It was the fourth time parish constable Sadie Le Suer Rennard had been called to court on behalf of the parish, which was found in contempt and fined.
'Parish needs you'
She said: "Two of the gentlemen that I've lost, I've lost through work because work won't let them take phone calls or won't let them have the time off to present cases and as everybody knows here it's the centenier that presents the cases in court not the paid police.
"I've been on the radio, I've been on television, I've knocked on a few doors, I really don't know what else to do other than putting a big banner outside the parish saying 'your parish needs you'.
"I'm due to go back again on 12 of August and if I haven't got anybody then, chances are it'll happen again and the fine will just get larger."
---
Centeniers:
Centeniers are elected at a public election within the parish. Each candidate must be proposed and seconded by 10 electors of the parish
They are the only officers entitled to charge and bail offenders
They also attend parish hall inquiries four or five nights a week to meet persons reported for offences within the parish
They present cases in the Magistrate's Court
They attend sudden deaths within the parish
Under Jersey law if a parish does not have a centenier it is considered in contempt by the court
Elections for centeniers are held every nine months
---