Original boat takes part in 75th St Malo evacuation anniversary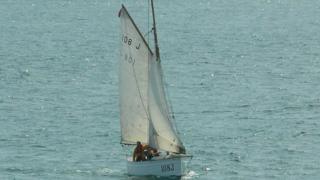 The only remaining seaworthy Jersey boat used to evacuate Allied troops from St Malo in World War Two has taken part in 75th anniversary celebrations.
The Fiona was one of 20 civilian boats from Jersey used to rescue Allied forces from advancing German troops.
It sailed back to St Malo with around 100 members of St Helier Yacht Club to mark the event known as Jersey's Dunkirk.
Celebrations included a dinner reception in St Malo and a yacht race.
On 16 June 1940, the Bailiff of Jersey, Sir Alexander Coutanche, received a telegram from the Admiralty asking "Jersey send all available craft to St Malo to help with the evacuation of British troops".
The mission was part of Operation Aerial, which followed the rescue mission in Dunkirk, and evacuated Allied forces from ports in western France, from 15-25 June following the military collapse in the Battle of France against Nazi Germany.
More than 20,000 men, mostly of the 1st Canadian Division, were evacuated from St Malo on 17 and 18 June. On leaving the port, British forces blew up petrol tank depots and the lock gates.
To commemorate Jersey's involvement in the mission, the St Malo Yacht Club organised a race to the port including the Fiona - the only remaining seaworthy boat.
It is understood that all of the islanders who took part in the operation have now died.
Speaking to the BBC before his death, Jersey man Pop Newman described the dramatic mission in St Malo.
He said: "They were blowing up the locks and all of the oil tanks were on fire and there were a few private ships that were taking soldiers off, and I reckon I was the last one to leave."
Vice commodore of St Helier Yacht Club Steve Pearl said: "It was a very, very prestigious moment in the club's history.
"It was a fantastic achievement of members of the club and we think it is important to remember the ordeal."