Jersey's ex-education boss Mario Lundy 'not violent'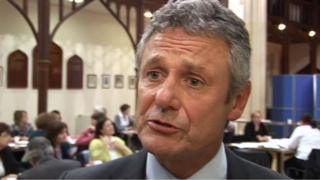 The former head of Jersey Education has told the island's care inquiry he was not violent towards pupils in his care.
Mario Lundy, 62 was responding to multiple allegations of physical abuse from former pupils, made at earlier hearings.
Mr Lundy, born in Belfast, worked at Les Chenes secure school in the 1980s and 1990s, before going on to run the education department.
He said he was unaware of complaints and disputed the allegations.
"I'm not aware of any professional complaints made against me in my professional career," he told the inquiry.
He admitted there was no formal way for children to make complaints against staff at the time but said it would have "been a tremendous benefit to have them then".
Records destroyed
A number of Mr Lundy's former pupils attended the inquiry to hear his evidence.
Some said he used a practice they called pin-balling, which involved pushing them around violently.
The inquiry heard discipline records at Les Chenes were destroyed in 2002.
Mr Lundy said this was "deeply disappointing" as public records laws were already in force at the time.
He said: "The way that staff handled the situations, there was a record of it there. I think it would have been an asset to the inquiry,"
Mr Lundy said Les Chenes was not the abusive regime some had portrayed it as at the inquiry.
"There were very many positive things," he said. "Not every young person placed there would have accepted that, but the fact of the matter is Les Chenes was light years ahead."
The hearing, which is investigating claims of child abuse in Jersey's care system, continues.