Jersey government spent £25m more than income in 2014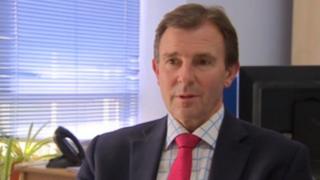 Government departments spent £25m more than was received from general revenue last year, according to the States of Jersey accounts for 2014.
The income from taxation and other sources grew by £8m to £649m while spending rose by £38m to £674m.
The deficit is expected to rise to £125m by 2019 with one solution suggesting job and service cuts.
Senator Alan Maclean, Treasury Minister, said despite the deficit the accounts were in pretty good shape.
---
General Revenue Income
Personal Income Tax £353m
Companies Tax £83m
Goods and Services Tax £80m
Imports Duty £54m
Stamp Duty £26m
Island Rate £12m
Fines and other income £40m
Departmental Revenue Expenditure
Health and Social Services £197m
Social Security £179m
Education, Sport and Culture £114m
Home Affairs £34m
Other ministerial departments £108m
Other departments and States Assembly £42m
---
"The balance sheet is strong, we have seen our investments grow in value and it now stands at £5.6bn, that's all the assets we have," said Senator McLean.
"That is a very satisfactory position and we have seen our investments actively managed and outperform the market."
Of the deficit he added: "Although income has continued to rise, it is rising at a lower rate than was previously the case.
"Meanwhile expenditure has continued to rise and we need to make investment in key areas like education and health.
"To pay for that, we have to cut back in other areas that aren't a priority, more so than we have already done."