Condor Liberation fails to dock in St Helier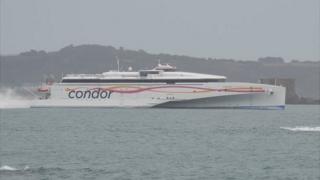 The Condor Liberation had to turn back from Jersey after high winds prevented it from docking in St Helier Harbour, according to the operator.
It was due to take passengers from Guernsey to Jersey and on to Poole.
The Condor Rapide, already in St Helier, took 170 passengers from Jersey to Guernsey and will take those in Guernsey back to Jersey.
The Liberation will still operate between Guernsey and Poole as weather conditions are not as bad there.
Condor said passengers travelling to Poole should only experience a slight delay.
Whereas those travelling back from Guernsey to Jersey on the Rapide are facing a three-hour delay due to the issues with the Liberation.