Jersey dog mess campaign targets ten areas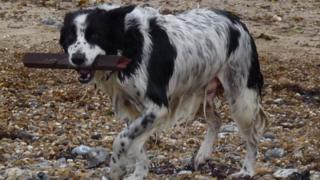 Dog mess hotspots across Jersey are to be targeted in a new clean-up campaign.
Ten sites have been earmarked for "special attention" after a survey asked islanders which areas were the worst for dog fouling.
The Eco Active department said it would put out extra bags, posters and badges to curb the amount of mess left behind.
Programme manager Jane Burns said she hoped members of the public would encourage dog owners to be more responsible.
"We hope that by drawing attention to this issue, the public will help persuade people to be responsible and help reduce the amount of dog poo across Jersey" she said.
The areas to be targeted are:
Havre des Pas
Jardin d'Olivet
La Pouquelaye
Noirmont Point
Portelet Common
Ouaisne Common
Queen's Valley Reservoir
Rue des Près footpath
St Ouen's sand dunes
St Catherine's Woods.