Jersey rhea bird Rosie-Lee home after a week on the run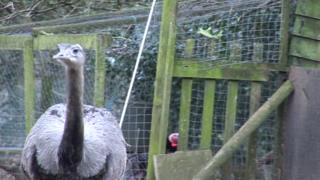 A rhea bird that ran away from its enclosure in St John at the end of May has been recovered and returned home.
The bird called Rosie-Lee fled her enclosure after being scared by a nearby herd of cows.
Her owner Seamus Nicolle struggled to capture her and she was spotted in various places around the parish over the course of a week.
She was finally captured on Sunday by honorary police officers in Trinity and returned home in a horse box.
Mr Nicolle said: "I am pleased she hasn't had an accident while away and glad to have her home.
"I would like to thank everybody, especially the Trinity honorary police who put a lot of time in getting her home safely."
The birds come from South America and look a little like ostriches.