Jersey residents warned over bee swarm increase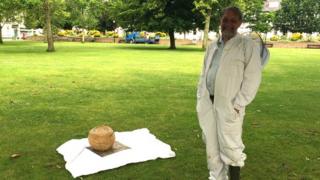 Jersey residents are being asked to beware as the number of bee swarms is likely to be high this year.
Bob Hogg, president of the Jersey Bee Keepers Association, said 2014 was a very successful year for Jersey bees and this year was expected to be too.
He is predicting an increase in the number of swarms and said people should contact a bee catcher if they see one.
On Friday he was asked to remove a swarm in St Helier after it was seen around a children's playground.
He said: "It is a swarm of bees that came here yesterday; I got a call that there was a swarm by a children's playground and was asked to take it away."
---
Removing a swarm
People are advised to contact their local bee collector if they see a swarm
They will take the queen and put her into a basket known as a skep
It will be placed on the floor and over the next hour or so all of the bees will follow the queen into the skep
They can then be safely transported to a hive
---
In the past two weeks Mr Hogg has dealt with five swarms. He said June was the main month for swarms, so people should be alert, although they do not need to be afraid of bees.
"It would have been fine to leave them by the park as they are not aggressive while in a swarm," he said.
"They only attack if they have two things to protect, honey and babies, and they have neither in a swarm - but they will be safer in a hive."