Jersey care inquiry: Abuse victim 'appalled by leniency'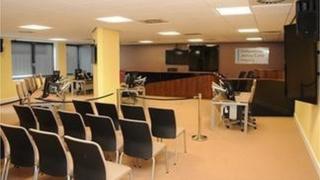 A witness at the Jersey Care Inquiry has told of her horror at the sentence handed down to her childhood abuser.
The woman, who was in care in the 1970s, said she wondered if her abuser's connections had helped him.
Roger Horobin was sentenced to a year in prison in 1979 for abusing the woman and her sister.
The victim told the panel she later found out Horobin had entered a plea bargain in which he only admitted abusing the girls when they were older.
The woman, referred to as Witness 45, told the inquiry Horobin had in fact abused her from the age of 10.
She said Horobin, a shopkeeper, told carers he was her uncle, which they believed, despite her protests.
'A nightmare'
The panel is hearing evidence about small-scale facilities run by couples that were used in Jersey from the 1960s until 1990.
Witness 45 described her time at the Don Road home, from 1967 to 1977, as "a nightmare from day one".
The panel heard she was repeatedly beaten by the woman in charge of Don Road. Her brother later told police there was no violence at the home.
The couple who ran the home were arrested in 2008 but released without charge.
The panel heard Witness 45 left Jersey on a plane on her 18th birthday.
The inquiry continues.