Backpacker reunited with long-lost camera via Facebook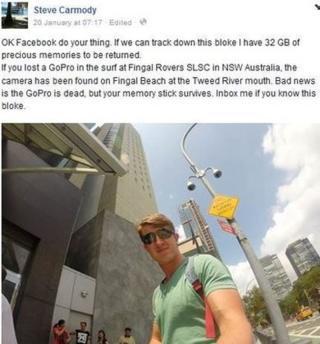 A camera lost six months ago in Australia has been reunited with its owner thanks to a social media manhunt by a stranger who found the device.
Backpacker Chris Hesford, 22, from Jersey, lost his GoPro camera while kayaking in Byron Bay, New South Wales.
Months later Australian Steve Carmody found the camera in a riverbed 60 miles (97km) away and took to social media in a bid to find its owner.
After two weeks and 8,000 shares on Facebook, Mr Hesford was identified.
'Incredible effort'
Mr Carmody posted on Facebook saying: "If we can track down this bloke I have 32 GB of precious memories to be returned."
The post went viral and the story was picked up by Australian TV news, which showed photographs from the camera's memory card of Mr Hesford, who is now working as a lawyer in London.
The images depicted Mr Hesford on his travels around the world, including at top of the Empire State building, visiting the Grand Canyon and posing near the Sydney Opera House.
Friends of Mr Hesford saw the pictures, told him the good news and he got back his long-lost photos, which were still on the broken camera's memory stick.
He said: "I was just in shock, really.
"It's amazing that Steve made such an incredible effort to find me.
"Steve, I am extremely grateful for your efforts, and if you are ever in London the first pint is on me."
Mr Carmody told ABC Gold Coast radio: "It's very cool, it just goes to show the power of social media."