Jersey road lines repainted after States mistake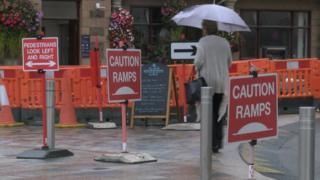 Newly painted central road markings have had to be removed because they were not placed in the middle of the road.
The white lines were applied after a road was re-laid in St Aubin as part of a village improvement scheme.
They were removed in December and traders say the work harmed business on the run up to Christmas.
The States transport and technical services department says they were removed because they were not central.
David Leedhan, from Lovejoy's Antiques in St Aubin, said: "I could see from my side where the shop is they were about a metre out.
"They haven't gone around to measure. It looks like they just guessed and put the lines down. It is ridiculous and a waste of taxpayers' money."
The white lines will be repainted in the coming weeks.