Jersey petrol prices fall below £1 per litre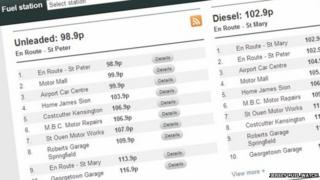 Petrol prices on some Jersey forecourts have fallen below £1 per litre.
According to the consumer website Jersey Fuel Watch at least three garages are now selling a litre of unleaded fuel for as low as 98.9p.
International oil prices have tumbled in recent months, with a barrel of Brent crude now costing $58, the cheapest in five years.
Cheaper fuel is a factor behind the UK's low rate of inflation, which is 1% by some measures.
The last time fuel in Jersey cost less than £1 was in 2009.
Motorists in Jersey pay around 50p per litre in taxes, compared to 80p in the UK.
According to States statistics, the pre-tax price of petrol is 46% higher in Jersey than in the mainland.
Anne King of Jersey Consumer Council said prices should fall further.
"The council have been monitoring the price of oil per barrel since the middle of summer," she said.
"It's come down significantly, well over 40%, so we're looking for even more to come off heating oil and road fuel."
Nick Crolla, of Fuel Supplies CI, a fuel wholesaler, said petrol prices do not automatically fall at the same speed as crude oil prices.
"There are always fluctuations in costs from extraction, refining, bulk storage and shipping," he said.
"The dollar has been strengthening against the pound which has a knock on impact to the end-customer price.
"Although the market costs are decreasing there are other costs along the chain which are increasing."