Channel Island ferry passengers face further delays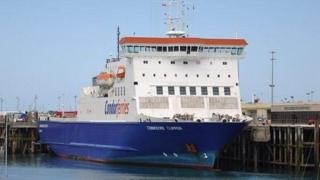 Passengers due to travel on a ferry between the Channel Islands and the UK face further delays after a fault.
Condor Ferries cancelled Commodore Clipper services on Saturday after the ship developed a rudder fault and is currently in Portsmouth.
Engineers hoped to complete the work by Sunday morning but cold temperatures meant this was not possible and it has been cancelled until Monday.
Condor said more than 300 passengers were affected by the cancellations.
A spokesman for the company said he could not say exactly how many were still waiting to travel but passengers would be transferred to their fast ferry service on Monday.
Fran Collins, executive director of operations at Condor said: "We are optimistic that Clipper will be ready to sail by early Monday morning.
"Our priority is to keep our Islands connected and supplied and whilst freight supplies continue on Commodore Goodwill, we are keeping all of our customers updated regularly."