Blue Islands airline rejects Aurigny 'downsize' claim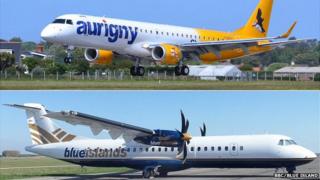 Airline firm Blue Islands has rejected claims made by partner company Aurigny that it is "substantially down-sizing".
Aurigny, which provides ground services for Blue Islands at Jersey Airport, has blamed the company for 30 potential redundancies.
Several Blue Islands routes from Jersey airport have been scrapped, prompting Aurigny to claim it makes its ground operation there "unviable".
In a statement, Blue Islands said Aurigny had "chosen to abandon Jersey".
"To suggest a 'substantial downsize' is utterly wrong," the airline said.
"This year Blue Islands...will fly in excess of 330,000 passengers, 65% up from 2013.
"Unfortunately, rather than adapting its ground handling operation to ensure it remained viable, Aurigny have chosen to abandon Jersey."
The two airlines announced a code share deal in 2013 under which Blue Islands aircraft took over the Jersey-Guernsey route while Aurigny provided ground services and sold seats.
Aurigny, which is owned by the States of Guernsey, said the Jersey-Guernsey route agreement between the firms would be unaffected by the closure of its ground operation in Jersey.