Jersey care inquiry: Abuse claims rubbish, says resident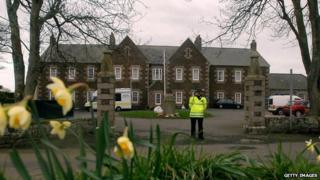 Claims of sexual and physical abuse at the Haut de la Garenne children's home in Jersey are "rubbish", a former resident has told an inquiry.
George Hamon, who was there for a year in the 1960s, said if it did happen he was not aware of it.
He was giving evidence to the Independent Jersey Care Inquiry, which is looking into claims of abuse at the home in 1960s and 1970s.
Mr Hamon said he felt staff at the home were nice.
He said claims about sexual and physical abuse made in a Panorama report when claims of abuse in the Jersey care system first hit the news in 2008 from someone he was there with, were "absolute rubbish".
'Six of the best'
Mr Hamon had been sent to the home for three years in 1965, after being convicted of theft along with two others.
He only stayed there a year because when he reached the age of 15 he got a job and left school.
Although he was glad to leave, he told the inquiry he was not physically punished by staff while there and did not know anyone who was.
He said he did not get on with the staff initially, but that was because he felt he should not have been there.
While Mr Hamon was not caned at Haut de la Garenne, others have spoken of receiving "six of the best" from the home's superintendent Colin Tilbrook. One has said it was what he deserved and it stood him in good stead for life.
Earlier, the inquiry saw statements given by other former residents who were at the home in that period which also said they had not been abused there.
But those are in contrast to other accounts the inquiry, which continues, has been hearing.