Thai murder suspects appeal to victims' families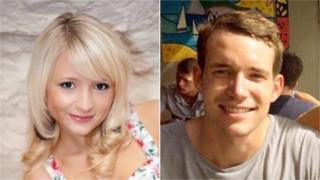 The men accused of murdering two British travellers in Thailand have asked the victims' families to help find out what happened.
Zaw Lin and Wai Phyo were charged with the crimes after making confessions which they have since retracted.
David Miller, 24, from Jersey, and Hannah Witheridge, 23, from Norfolk, were found dead on a beach on the island of Koh Tao.
They had head injuries and it is thought Mr Miller had drowned.
The suspects are being held in prison on the island of Koh Samui.
Through their lawyer they expressed grief at the deaths and asked the families to get hold of any information possible from the UK authorities.
A UK police team visited Thailand to review the investigation, but they are not allowed to get involved with the judicial process.
The two 21-year-old migrant workers from Myanmar are charged with conspiracy to murder, conspiracy to rape and robbery.
They could face the death penalty if found guilty.