Durrell Wildlife Trust jewel auction raises £100,000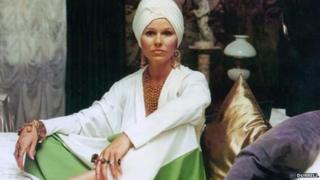 Jewellery sold at auction in Australia has raised more than a £100,000 for the Durrell Wildlife Conservation Trust.
Former model Uta Pearson left the collection in her will to be sold to raise money for the charity.
Anellie Manolas, from Bonhams auction house in Sydney, said there had been a lot of interest in the jewellery.
Ms Pearson died in 2013 and was famous in the 60s and 70s including appearing in the German edition of Playboy.
A spokesman for Durrell said she was a renowned 1960s model, internationally famous for her "Bond girl" looks and exquisite taste.
Ms Pearson went on to become a well-regarded collector of antiques, jewellery and objets d'art, an outspoken columnist and a passionate supporter of wildlife conservation.
She was a member of Durrell Wildlife Trust and Rachel Shaw from the charity said the gift would help them in their work saving species from extinction.
Ms Shaw said: "The proceeds will greatly help Durrell as the trust continues to work towards financial sustainability.
"At a time when there is more need for wildlife and habitat conservation than ever, Durrell's conservationists are poised to launch the most all-embracing mission in the trust's 51-year history - a global effort to save amphibians."
Ms Manolas said a number of items went for triple their estimate.