Jersey Christmas Eve crib service cancelled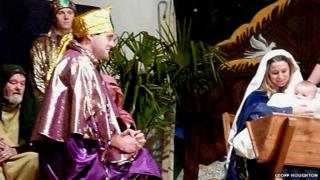 The traditional Christmas Eve crib service at the Royal Jersey Showground in Trinity has been cancelled.
The Trinity Parish Church, which runs the event, says the event has become so popular it needs to find a way of limiting numbers.
In 2013 over 1,500 people went to the nativity play.
The rector of Trinity, the Rev Geoff Houghton, said the Christmas Eve service had become a victim of its own success.
He said: "It was a very difficult decision, it is something we started nine years ago in a small barn and it has grown and grown and grown.
"We have now more than outgrown the main exhibition hall. We are going to have to think creatively about how we do things in the future."
He said they hoped to be back in 2015, but needed to work out a way of managing numbers.