JT tried to 'poach' Sure customers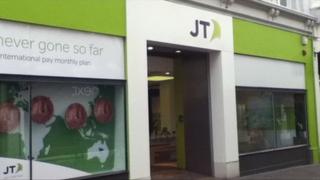 Jersey telecoms operator JT unfairly tried to "poach" customers from a rival firm, says the competition regulator.
States-owned JT, which runs the network, wrote to Sure customers to inform them of a switch to fibre-optic broadband, but also tried to sell them its own retail products.
The regulator said this was unfair because Sure was unable to contact JT customers in the same way.
Graeme Millar, JT's chief executive, said the incident was a mistake.
The Channel Islands Competition and Regulatory Authorities (CICRA) said the move was a breach of JT's telecoms licence but would not attract a fine because JT co-operated with the investigation.
Sure chief executive Graham Hughes welcomed the ruling but said JT should have been fined.
"It is possible that the regulator chose not to fine JT because the company gained no benefit from its promotion," he said.
"However, JT's behaviour as the incumbent operator is not always as it should be in terms of the way it behaves towards competitors.
"In my view, an exemplary punitive fine would have been an appropriate course of action."
JT says it will carry out an independent review in agreement with CICRA and will adopt any recommended changes.