Jersey States ministerial election: Chief minister gets his top team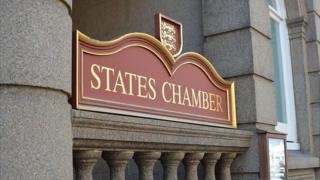 Jersey's Chief Minister Ian Gorst has got his preferred top team when all his nominated candidates were elected as the 10 States ministers.
All faced opposition for their positions with the closest vote being for the position of housing minister.
Former health minister Deputy Anne Pryke was elected ahead of Deputy John Le Fondre by a vote of 25-19.
The qualified accountant had also lost out in the vote for treasury and resources minister on Thursday.
Senator Alan Maclean, who was a potential chief minister candidate, was made Treasury and Resources Minister.
Senator Andrew Green saw off a challenge from new Senator Zoe Cameron for the health position and Senator Sir Philip Bailhache will continue to look after external relations after he defeated Deputy Montfort Tadier.
Deputy Eddie Noel came out ahead of the previous transport and technical services minister, Deputy Kevin Lewis, to secure his seat.
Deputy Kristina Moore took the home affairs ministry after a challenge from the Reform Party's Sam Mezec and Senator Lyndon Farnham became economic development minister after seeing off a challenge from Deputy Andrew Lewis.
Two candidates faced a three-horse race with both Deputy Anne Pryke and Deputy Susie Pinel receiving the majority of the assembly's support in each case.
Jersey States ministers
Treasury and Resources
Senator Alan Maclean
Health and Social Services
Senator Andrew Green
External Relations
Senator Sir Philip Bailhache
Transport and Technical Services
Deputy Eddie Noel
Home Affairs
Deputy Kristina Moore
Economic Development
Senator Lyndon Farnham
Social Security
Deputy Susie Pinel
Education, Sport and Culture
Deputy Rod Bryans
Housing
Deputy Anne Pryke
Planning and Environment
Deputy Steve Luce