Jersey politicians black-tie dinner raises £1,500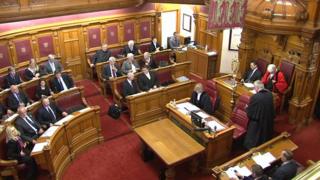 A black-tie dinner for departing Jersey politicians has raised £1,555 for the Royal British Legion.
The Bailiff, Sir Michael Birt, urged attendees to donate to the servicemen's charity in response to an online petition opposing the dinner.
More than 1,600 islanders signed the petition and about 20 protestors gathered outside the event at La Mare Wine Estate on Thursday evening.
The dinner was held to thank retiring politicians and those who lost seats.
Seven deputies lost their seats in the general election on 15 October, while four members retired.
All sitting and newly-elected States members were invited to the meal, along with their partners.
In his statement urging guests to donate, the Bailiff also suggested the new assembly might want to debate the future of the thank-you dinner.
Islander Sandra Bisson launched the petition, saying it was inappropriate because ordinary islanders were struggling with living costs.
Chief Minister, Senator Ian Gorst, told protestors he would reveal which members paid for themselves, who turned up and would publish the receipt from the meal.