Jersey inquiry to name dead alleged abusers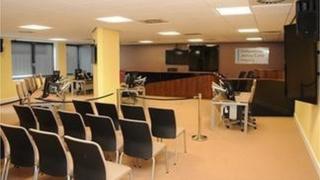 Alleged abusers who have died will be named by an inquiry into abuse in Jersey's care system.
Independent Jersey Care Inquiry's chairwoman said it was no longer realistic for them to be confidential.
It was in part down to the number of documents the inquiry was considering, Francis Oldham said.
Lawyers representing States departments and the police object however, saying they were concerned about the effect on relatives still alive.
'Recriminations and shaming'
Advocate Robert MacRae, representing the States of Jersey Police, challenged the move, saying in a small island seeing someone named as an alleged abuser "would be a bolt from the blue" for relatives.
He said there was concern it might bring about recriminations and shaming of individuals and their families.
The panel also ruled it will name other individuals linked to abuse that have been named by the regulated media in the past.
Ms Oldham outlined the definition of public domain. The States of Jersey Police had asked for this to be restricted to information provided "lawfully to on-island regulated media" including the Jersey Evening Post and BBC.
This was rejected by the panel, which decided it should include all regulated media, and not just those based in Jersey.
Patrick Sadd, advocate for the inquiry, said in his submission: "Information which is already in the public domain will not be redacted. In the public domain is information realistically accessible to the public. Information that has been published in the regulated media."
The naming policy is due to come into force next Friday and will be retroactive, so previous documents with names redacted will be updated.