Jersey's Field of Remembrance 'open early' to mark WW1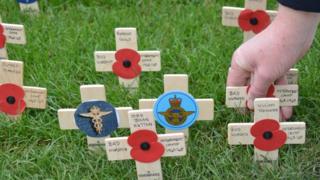 Jersey's Field of Remembrance was opened earlier than usual to mark 100 years since the start of World War One.
Wreaths and wooden crosses with poppies in the centre were laid at the foot of the Cenotaph in St Helier on Thursday.
It will stay open until Sunday 11 November, Remembrance Day.
Lieutenant Governor Sir John McColl and Bailiff Sir Michael Birt were joined by other representatives from the States and members of the public at the ceremony.
The dedication service is usually on a Sunday but was brought forward to mark the anniversary of the start of the war and to keep it in line with Guernsey and the UK.