Jersey political dinner attendees urged to make donation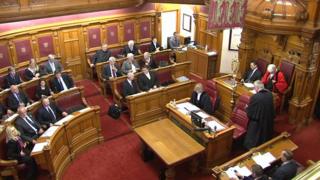 Jersey politicians attending a thank-you dinner have been urged to make a donation to the Royal British Legion.
An online petition opposed to the event, described as "unseemly" to ordinary islanders, attracted more than 1,500 signatures.
The black-tie event is held after every Jersey election in honour of retiring politicians and those who lost seats.
Seven deputies lost their seats in the general election earlier in the month, while four members retired.
All State members and their partners are invited to the dinner, organised by Jersey's Bailiff, Sir Michael Birt, who heads the States assembly.
He has now asked States members to donate an amount equivalent to the cost of the meal to the servicemen's charity.
The Bailiff also said the new assembly may want to debate the future of the event.
Islander Sandra Bisson launched the petition against the event at La Mare Wine Estate was inappropriate because ordinary islanders who were struggling with living costs.
Of the 49 senators, deputies and constables elected on 15 October, only eight - the island-wide senators - polled more votes than there are signatures on the petition.