Jersey departing politicians dinner opposed by hundreds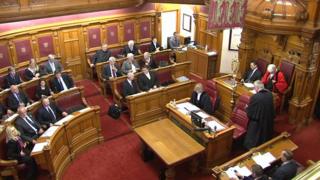 More than 600 people have signed an online petition demanding the cancellation of a dinner for departing Jersey politicians.
The traditional post-election dinner is held for departing politicians, although all members are invited.
Islander Sandra Bisson launched the petition on Saturday and had collected 620 names by Monday afternoon.
She said the black-tie event was "unseemly" when ordinary islanders were struggling with living costs.
Seven members lost their seats after the general election on 15 October, while four retired.
Five members were elected with fewer votes than there are signatures on the petition.
'Displeasure'
"At a time when the ordinary man on the street is struggling to put food on the table it is both unnecessary and unseemly to spend thousands of pounds of taxpayers' money on an extravagant dinner for retiring States members, not forgetting their partners," said Ms Bisson.
"The electorate have already shown their displeasure by failing to vote for them at the recent election."
Invitations for the dinner, to be held later this week at La Mare Wine Estate, come from the Bailiff, who is president of the States and speaker of the assembly.
An official at the Bailiff's chamber told BBC News the meal was a matter for members.
Senator-elect Paul Routier, the longest serving States member and father of the house, said the meal was a traditional thank-you for departing members' public service.
"It's a Bailiff's invitation to dinner which they've done at the end of every term for as long as I've been in the house," he said.
"When I started there was no salary and it really was the only thank-you members got.
"I think it's an important thing to do."