Jersey equal rights group 'confident' over marriage law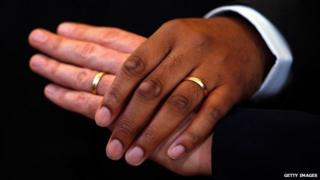 A Channel Islands equal rights group is confident it will be able to work with Jersey's new government to approve equal marriage legislation.
A consultation was launched in August after a States vote to delay its introduction.
Liberate carried out a survey among election candidates and say 80% of those who responded were in favour of same-sex marriage.
Group co-ordinator Vic Tanner Davy said this was a good place to start.
He said the candidates did say they would support the legal change as long as people of faith could opt out of performing a religious marriage ceremony for people of the same sex.
Marriage 're-defined'
Mr Tanner Davy said: "It is really about saying to people if you define marriage as being between a man and a woman within your church then that is fine.
"We are not about trying to change that but what we are saying is that marriage outside your church has been re-defined in society and we now need to equalise that."
Home Affairs Minister Ian Le Marquand, who lodged the amendment to calls for equal marriage legislation, said same sex marriage could have "unintended consequences".
He called for a full review before a final vote on legislation.
Mr Tanner Davy said: "On the issue of equal marriage, of the people who have been elected, we have got 26% support for equal marriage.
"That is with a whole load of unknowns in there, the constables, so that is a good run to work on."
The consultation ends on 22 October and Chief Minister, Senator Ian Gorst, said he hoped to bring a proposition to the States in November, if he is re-elected as chief minister.