Jersey Care Inquiry claims: Child 'beaten nearly every day'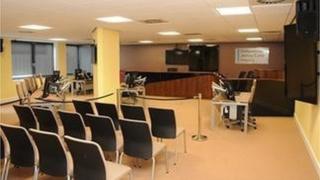 A man who was sent to a foster home in the 1980s has claimed at a care inquiry that he was beaten nearly every day.
Darren Picot, who was at Blanche Pierre Family Group Home, Jersey, said he had his arm broken by house parent Jane Maguire when he was four years old.
He also told the panel at the Jersey Care Inquiry that custard and Dettol were forced down his throat there.
The BBC put abuse allegations to the Maguire family, who ran the home, in 2008 and they did not want to comment.
'Suspected fractured skull'
Mr Picot said he was told to tell hospital staff he broke his arm by falling over.
He told the inquiry on another occasion house parent Alan Maguire knocked his head against another boy's so hard he was taken to hospital with a suspected fractured skull.
Mr Maguire died in 2008.
Mr Picot said he was regularly made to stand outside with his nose to a tree - sometimes for up to six hours at a time.
When asked by Harriet Jerram, counsel to the inquiry, if he ever discussed the abuse with his childcare officer Richard Davenport, he said "there was no point because the comments you made would get back to the Maguires and you'd get 10 times more".
He told the inquiry he believed he was beaten nearly every day because he was one of the only children who fought back.
The Independent Jersey Care Inquiry is investigating child abuse in Jersey's care system since 1945.