Fatal Condor ferry crash foghorn was turned off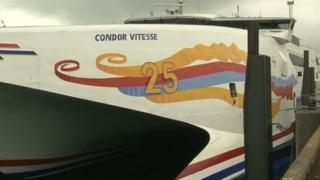 The crew of a Condor ferry which struck and killed a French fishermen in fog in 2011 had turned their foghorn off.
Philippe Lesaulnier's inquest in St Helier on Thursday was told the fisherman could have been alerted earlier if he had heard the signal.
Captain Paul Le Romancer and First Officer Yves Tournon were given 18-month and 12-month suspended sentences for manslaughter in 2013.
French prosecutors are appealing against the sentences.
Lost blood
At the inquest, rescuers described finding Mr Lesaulnier face down in the water.
He was not wearing a life jacket but had lost three litres of blood from a blow to the abdomen, so a life jacket would not have saved him.
Forensic pathologist Basil Purdue said the fisherman would have lost consciousness almost immediately.
The inquest heard the Condor Vitesse was travelling too fast in poor visibility and officers had turned off the foghorn because they thought the engines could be heard further than the horn.
Captain Peter Moore, Jersey's search and rescue mission co-ordinator, read from the investigators' reports, which said the Vitesse crew's actions were "disturbing" and broke regulations.
The reports claimed Mr Lesaulnier could have been alerted sooner had he heard the fog signal.
The inquest also heard the crew were distracted and chatting when they should have been concentrating on watching the radar.
A Condor Ferries representative told the inquest the firm has reviewed procedures since the crash.
Inquests in Jersey record narrative verdicts, which do not apportion blame.