Jersey care inquiry: Girl tells of rape by member of staff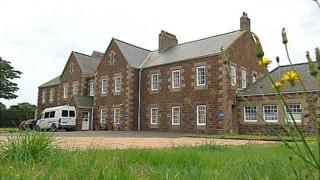 A former resident of Haut de La Garenne says she was raped at the children's home more than 60 years ago.
On Wednesday the Jersey care inquiry heard written witness statements read out by inquiry counsel, Patrick Sadd.
The anonymous witness, in care in the 1940s and 1950s, described being sexually assaulted and raped by a male member of staff.
She said on several occasions she was woken at night by a nurse and taken to an office where a man raped her.
The woman described her assailant as being well dressed and having a local accent but said she never saw him or the nurse during the day.
The victim said she was warned not to speak about the abuse to anyone.
Some written statements from women at the home during the 1940s, 1950s and 1960s described happy times, but others spoke of punishments.
Children had soap forced into their mouths for breaking rules while others were beaten with nettles for bed-wetting.
The Independent Jersey Care Inquiry is investigating allegations of historical abuse in the island's care system from 1945 to the present day.
The inquiry continues.