Branchage festival projection event attracts thousands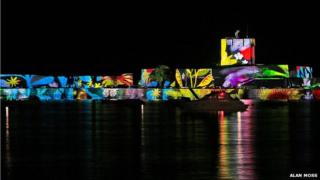 Thousands of people lined St Aubin's seafront in Jersey on Sunday to watch a 3D light show projected on to St Aubin's Fort with a live score.
The score was performed by the Radiophonic Workshop, the team behind the sounds and music of Doctor Who.
Mark Ayres from the Radiophonic Workshop said the score now belonged to the island.
NOVAK and QED Productions, who worked on the 2012 Cultural Olympiad, created the 3D projection mapping and design.
Mr Ayres said: "It has been enormous fun to do it and a great privilege to play with the island.
"There is a lot of technology up there, and a lot that can go wrong, but it went well.
"It was a one-off; it was done for here. We need to do something, maybe bury it in a time capsule for someone to find it in the future," Mr Ayres said.
Part of the 30-minute show saw the turret on the fort turn into a TARDIS, appearing to the sound of the TARDIS from Doctor Who.
Dick Mills, the longest-serving member of the workshop, said he would be happy to do it all again.
Branchage is a four-day mixed arts festival with more than 70 events in more than 30 venues.
The score was broadcast live on BBC Radio Jersey and is available to listen again.