One-third of Jersey politicians elected unopposed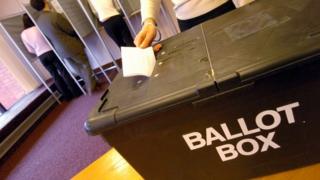 A third of Jersey's politicians have been elected unopposed a month ahead of the island's first general election.
All but one constable will not face the ballot box when voters elect senators and parish deputies.
The only parish to have a vote for constable is the island's smallest, St Mary.
There are 32 seats left to be filled from 19 senatorial candidates, two candidates for Constable and 49 contesting the remaining deputy seats.
Constable Simon Crowcroft will start his sixth term as constable of St Helier, the island's largest parish with about 30% of the population.
He has only faced two contested elections as constable and says it means he can get straight back to work.
Three newcomers are straight in. Chris Taylor was elected constable of St John, Philip Le Sueur Constable in Trinity, and Terry McDonald was elected deputy in St Saviour three.
Jersey's first general election is to be held on Wednesday 15 October.
There will also be a referendum over whether constables should have a seat in the States as an automatic right. This will be held on the same day as the election.
Nineteen people were nominated for one of eight island-wide seats in the senatorial election.
Candidates for deputy
PARISH
CANDIDATES
St Brelade
District one (one seat) Angela Jeune Mike Jackson Murray Norton
District two (two seats) Beatriz Poree (Reform Jersey) Montfort Tadier (Reform Jersey) Natalie Duffy Jane Blakeley Peter Troy Jeff Hathaway Graham Truscott
St Clement (two seats)
Susie Pinel Gerard Baudains Darius Pearce Simon Bree
Grouville
Carolyn Labey (elected unopposed)
St Helier
District one (three seats) Judy Martin Nick le Cornu Russell Labey Shannen Kerrigan (Reform Jersey) Scott Wickenden Gino Risoli
District two (three seats) Geoff Southern (Reform Jersey) Sam Mezec (Reform Jersey) Rod Bryans Martin Green Bernie Manning
District three and four (four seats) Jackie Hilton Mary Ayling-Philip Richard Rondel Christian May Mary Osmond John Ttokkallos Laura Millen (Reform Jersey) Andrew Lewis Mike Higgins Ted Vibert
St John (one seat)
Tracey Vallois (elected unopposed)
St Lawrence (two seats)
John Le Fondre (elected unopposed) Eddie Noel (elected unopposed)
St Martin (one seat)
Steve Luce (elected unopposed)
St Mary (one seat)
Mark Evans David Johnson
St Ouen (one seat)
Richard Renouf Chris Lamy
St Peter (one seat)
Kristina Moore Debbie Hardisty (Reform Jersey)
St Saviour
District one (two seats) Rob Duhamel Jeremy Macon Peter McLinton (Peter Mac)
District two (two seats) Kevin Lewis Louise Doublet Maureen Morgan
District three (one seat) Terry McDonald (elected unopposed)
Trinity (one seat)
Anne Pryke Hugh Raymond
Candidates for constable
PARISH
CANDIDATES
St Brelade
Steve Pallett (elected unopposed)
St Clement
Len Norman (elected unopposed)
Grouville
John Le Maistre (elected unopposed)
St Helier
Simon Crowcroft (elected unopposed)
St John
Christopher Taylor (elected unopposed)
St Lawrence
Diedre Mezbourian (elected unopposed)
St Martin
Michel Le Troquer (elected unopposed)
St Mary
Juliette GallichanJohn Le Bailly
St Ouen
Michael Paddock (elected unopposed)
St Peter
John Refault (elected unopposed)
St Saviour
Sadie Rennard (elected unopposed)
Trinity
Philip Le Sueur (elected unopposed)