Flags at half mast for Thai murder victim David Miller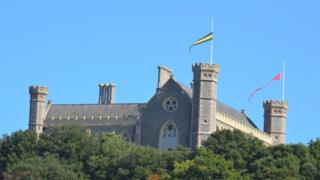 Flags flew at half mast at Victoria College on Tuesday in tribute to a former pupil murdered in Thailand.
David Miller, 24, and fellow traveller Hannah Witheridge, 23, from Norfolk, were found dead on Monday.
Mr Miller worked as an intern in the St Helier offices of Australian mining company Consolidated Minerals.
He was returning from a placement in Australia when he stopped off in Thailand for a holiday.
Mr Miller's family said he was due to leave Thailand on Tuesday.
Alun Watkins, headmaster at Victoria College, said: "David's tragic death, and in such dreadful circumstances, has come as a real shock to those who knew him and worked with him at Victoria College.
"He was a confident, articulate member of the college community with a good circle of friends.
"It is hard to comprehend how that life can have been brought to such a cruel and abrupt end."
Friends left tributes to Mr Miller on Facebook, describing him as a "gorgeous young man" who would be "missed by all".
Police in Thailand have released CCTV footage of an Asian-looking man they want to speak to in connection with the murders.
The bodies have been taken to Thailand's capital Bangkok for forensic analysis and are expected to be returned to their families after that.