No confidence motion in Jersey Treasury Minister Philip Ozouf rejected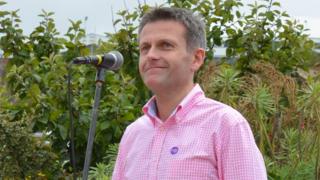 A motion of no confidence in Jersey's treasury minister has been rejected by 37 votes to seven, with five abstentions.
Senator Philip Ozouf faced the vote ahead of a budget focused on a tax overhaul, spending cuts and duty rises.
Deputy Geoff Southern, brought the no confidence motion, claiming Senator Ozouf did not reveal a shortfall in public finances.
In Jersey, treasury ministers cannot present budgets with shortfalls.
The no confidence vote centred on whether or not Senator Ozouf knew there would be a shortfall.
'Out of control'
He said he had always been upfront about the figures and forecasts could be wrong.
Deputy Southern told the special States sitting on Tuesday that spending was "out of control".
Senator Ozouf said forecasts were professionally carried out, but by their nature could be wrong.
He said: "We've seen the eurozone crisis continue so that's had an affect on our income but that's not a surprise.
"Deputy Southern criticises our optimism but we've been working to rebuild our public finances and our financial services industry.
"I find it disappointing to be criticised for speaking up for Jersey and rebuilding it."
Senator Ozouf had said he would not stand for election if he lost the vote.
Jersey holds its general election on 15 October.