Scottish church offers referendum solace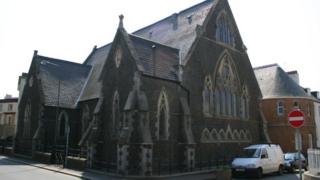 The Church of Scotland in Jersey is to open its doors during the independence referendum to provide "a place of solace" for a divided community.
St Columba's Church of Scotland will open from Wednesday so Scottish people can contemplate the issues surrounding the referendum.
The Reverend David Logan says the church wants to create a place of calm.
Jersey has a large Scottish population including a Scottish football team, society and pubs.
Rev Logan said: "With a large number of Scots resident in Jersey, the forthcoming Scottish referendum is brought to these shores.
"Most Scots, because they live here, will not have a say in the vote that will take place on Thursday [but] this vote will determine the future of their homeland."
He said St Columba's and the Church of Scotland were neutral on the referendum.
"Our purpose in opening our church is to provide a touching place of calm and quiet for all who have the interests of Scotland at heart.
"A place, where they can contemplate all that is happening without the pressure of the political campaign," he said.