Evacuation zone lifted after Jersey workshop fire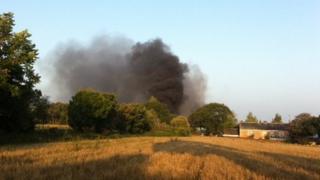 Emergency services are continuing to assess gas cylinders at the scene of a large fire in St Lawrence, in Jersey.
It started in a workshop where the canisters were stored at a farm complex west of Mont Felard.
A 100m (328ft) evacuation zone was in place around the site for several hours but most people were allowed back to their homes at about midday.
Firefighters were called to the blaze in La Rue de la Blanche Pierre in St Lawrence at 06:30 BST.
People living nearby heard bangs and explosions when the fire started, including Alison Cooper at Mont Cambrai.
"I was in bed and I could hear noises outside because the front of our house faces the field opposite where the fire is," she said.
"It sounded like crackling or a falling tree, then there was an explosion and I could see flames coming out of the trees opposite."
There are no casualties but members of the public have been asked to stay away from the area by emergency services.