Caribbean frogs given breeding boost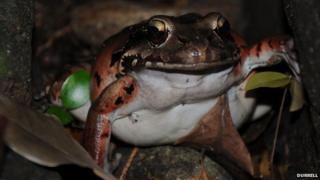 A threatened population of frogs from the Caribbean island of Montserrat has been given a helping hand thanks to a joint breeding programme.
The rare mountain chicken frog is a delicacy among locals and has also been hit by a fungal disease.
The joint breeding programme between London Zoo and Durrell Wildlife Trust in Jersey has now returned 51 of the frogs to the wild.
Conservationists are tracking the released amphibians with radio tags.
'Devastating disease'
Jeff Dawson, Durrell's amphibian programme officer, said the release was the culmination of a four-year project.
"The team from Durrell and the Department of Environment has been working tirelessly over the last nine weeks radio tracking the released frogs," he said.
"The data collected will help our understanding around the dynamics of this disease, which will be vital in guiding our future conservation actions for this amazing species."
The frogs, which can grow to the size of an A4 sheet of paper, were bred from females captured in the wild.
They were airlifted to purpose-built breeding centres in Jersey and London in 2009 and their offspring have now been released into a protected forest in Montserrat.
Ben Tapley, head of herpetology at London Zoo, said: "Mountain chicken frogs are one of the most endangered animals on this planet.
"Not only are they facing threats from habitat loss, but their numbers plummeted due to the introduction of the most devastating disease known to affect amphibians worldwide."