Jersey Treasury Minister faces no confidence vote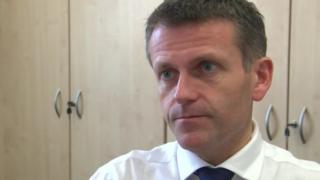 Jersey's treasury minister faces a vote of no confidence as he prepares for the budget debate and the general election.
Deputy Geoff Southern, of Reform Jersey, brought the proposition against Senator Philip Ozouf.
He claims the budget was not balanced fairly and panicked, moving money around "to make ends meet".
Members are due to debate the budget on 22 September, the last sitting of the current assembly before the general election in October.
Deputy Southern says Senator Ozouf covered the shortfall in the budget by one-off measures, and raiding ring-fenced funds.
Under Jersey law the treasury minister is not allowed to present a budget for debate with any shortfall.
Senator Ozouf said he had always been upfront about the figures in the budget.
Originally the proposition was to be debated on the same day the budget is due to be presented, but Senator Ozouf argued that it was unfair to expect him to present the budget and defend himself on the same day.
Members voted instead to hold the debate during a special meeting on Tuesday 16 September.
The debate is on the same day as nominations for senator in the election and Senator Ozouf said if he loses he may change his mind about staying in politics.