Jersey care inquiry: Nuns 'hit children with spoons'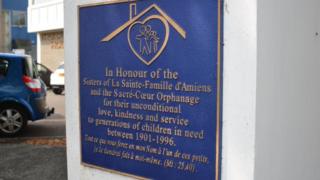 Children would be hit with spoons and locked in cupboards by "cruel" nuns at an orphanage, a woman told an inquiry.
The woman, in her 60s, gave evidence anonymously to the Independent Jersey Care Inquiry about her time at the Sacre-Coeur Orphanage in the 1950s.
Her first stint in care, aged six, was when her mother fell ill while the second, a year later, was while her parents saved up for a television.
She said counselling and work had helped her cope with her experience.
The woman, referred to as "Mrs A", told the panel the nuns who ran the orphanage punished children strictly for trivial offences, such as talking during meals.
Children could be hit with metal spoons, sent to bed with sheets pulled tightly over their heads all night, or locked in under-stair cupboards all day, she said.
Outside of school hours, children were forced to work unpaid in the nuns' knitting factory, she told the inquiry.
The woman said one nun, however, stood out as "truly lovely".
'Not their guilt'
In one "particularly cruel" incident when she was six, Mrs A said she was made to wear a "thief" sign after mistakenly telling other children it was her birthday.
She said she had believed it was her birthday because the weather was nice and she knew her birthday was in the summer.
Following that incident, she told the panel, nobody believed a word she said.
Mrs A, who described herself as "politically active" and mistrustful of the media, said counselling and work in adulthood had helped her cope with painful memories.
Politicians, she said, should be honest about what happened.
She urged former residents to seek help, saying some had died having never spoken out while others had turned to drink or drugs.
"I truly believe people need to get counselling so that they are able to put it back where it belongs: in the past," she said.
"It is not their guilt to carry. It is everybody else's."
The inquiry continues.