Expelled Jersey tweet politician apologises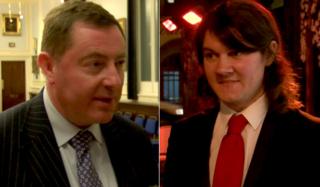 A St Helier politician expelled from his party over an "unforgiveable" and "deplorable" tweet has apologised.
Deputy Nick Le Cornu said his remark was a "political attack, not a personal one."
Deputy Kristina Moore, who is standing for a re-election after a serious illness, said she believed the comment was directed at her.
Reform Jersey expelled Mr Le Cornu saying the comment was deplorable.
The tweet read: "SHE is back and so conveniently in time, faking it like all good girls do," and appeared on Deputy Le Cornu's Twitter account on Thursday.
'Completely unforgiveable'
Deputy Le Cornu, who was expelled on Saturday, said: "I apologise if I have given any personal pain or suffering to herself or her supporters.
"I understand the pain. I am pleased that after 18 months of illness she is back. That's fantastic."
He said he was now "fighting for my political life" but would continue campaigning.
Deputy Kristina Moore said: "I have spent all my professional life in the public eye and sometimes you expect criticism but the comment went above that. I am pleased that Reform Jersey has dealt with the issue so quickly."
Announcing the news of Deputy Le Cornu's expulsion on his Facebook account, Sam Mezec, chairman of Reform Jersey, said: "What Deputy Le Cornu said is completely unforgivable and I utterly deplore it.
"As chairman, I suggested that he should resign from the party and, when he declined to, I then proposed that he be expelled from the party. The party management committee agreed."