St Helier prepares for Thursday night shopping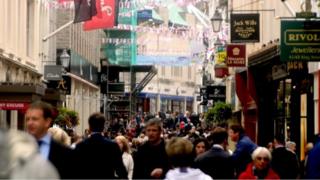 An 18-month late night shopping trial gets under way in St Helier later in an attempt to revive high street retail.
Traders hope the "Love Thursday, Love Shopping" scheme will reverse some of the drift towards online shopping.
St Helier Constable Simon Crowcroft said office workers were more likely to shop later in the day.
One trader told BBC News she was not optimistic because a Sunday trading trial had not worked.
Constable Crowcroft said later opening hours will encourage workers to eat out after shopping.
Businesses are enthusiastic about the scheme, he said.
"They recognise from their own figures they do a lot of business later in the day and less so in the morning when people are hurrying to work," said Constable Crowcroft.
"There's a fairly large potential market there for them that are tied to their desks from nine to five every day."
Christine Motie, from Crabtree & Eveyln, said Sunday trading hours had failed to generate new business and many retailers had lost hope.
"A lot of shops who have tried Sundays have given up because it just hasn't worked," she said.
"Speaking to a lot of traders, we know we just won't get the business."
Participating traders will be open until 19:00 BST.