Jersey's social security fund grows by £200m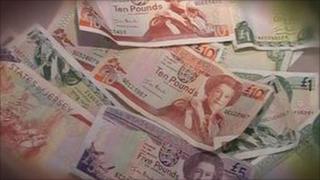 Jersey's Social Security reserve fund grew by £200m to £1.16bn in 2013, as a result of stock market investing.
The performance equates to 20% growth and outstripped the UK, where shares in the country's biggest companies grew by an average of 14%.
The fund is being built by the States to help ease "the pressures of an ageing population".
Its performance was detailed in the Social Security Annual report, published on Thursday.
The department received a total of £367m divided between £185m in social security contributions and £182m from central taxation.
Total spending was £345m.
Old age pensions account for three-quarters of "contributory" benefits in Jersey and rose from a total of £146m in 2012 to £154m.
Income support, the biggest benefit funded from central taxation, cost £92m which was 1% more than in 2012.
Including three smaller funds, the Social Security Department now holds £1.33bn.
Francis Le Gresley, the outgoing minister for social security, has previously said the department's funds would be depleted by the growing pension bill if taxes are not raised.