Police crash officer fined £500 for careless driving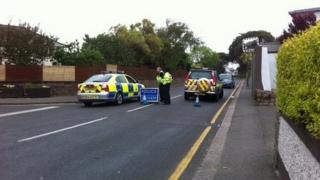 A Jersey police officer who overturned his patrol car has been fined £500 after admitting driving without due care and attention.
James Andrew Jenkinson, 38, had to be taken to hospital when he crashed a police car in La Grande Route de la Cote, St Clement, early on 20 May.
He appeared before Magistrate Nuno Santos Costa on Thursday morning.
On the night of the crash PC Jenkinson was at the end of a night shift and may have fallen asleep, the court heard.
'Micro-sleep'
No-one else was involved when the car hit a kerb and lamp post at 33mph before rolling on to its roof.
The car's on-board computer showed PC Jenkinson made no attempt to steer, accelerate or brake in the 250m before the crash.
Investigators concluded he suffered a "micro sleep" at the wheel.
Mr Santos Costa said PC Jenkinson had an excellent driving and police record and he said he was satisfied the crash was an accident.
PC Jenkinson may also face disciplinary action by the police force.