Better pay 'attracts better leaders' says minister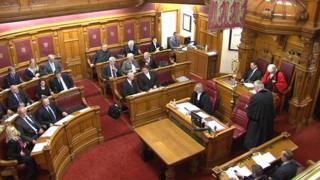 Better salaries for ministers would encourage better candidates to enter politics, says Jersey's deputy home affairs minister.
Senator Lyndon Farnham was talking after the States pay panel recommended remuneration be frozen at £46,600 until 2018.
The review, published on Tuesday, also recommended a contributory pension scheme for States members.
Deputy Geoff Southern said all members should continue to be paid the same.
'Real obstacle'
But Senator Lyndon Farnham said better pay for those with more responsibility would lead to better leadership.
"Whilst high income should never be the motivation for someone entering politics or moving on to be a minister or chair a scrutiny panel, paying realistic salaries that do not impose unrealistically large financial sacrifices will, for good and able people contemplating political office, reduce a real obstacle," he said.
Deputy Southern said pay should be the same for all politicians because some would never get ministerial jobs for political reasons.
"I'm politically unacceptable as a minister to those in the council of ministers so I'm not going to get that post, and despite my experience as the longest serving chairman of a scrutiny panel, because ministers get to pick who chairs scrutiny panels, I'm unlikely to get that either."
Jersey is holding a general election in October.