No Jersey politician pay rise 'until 2018'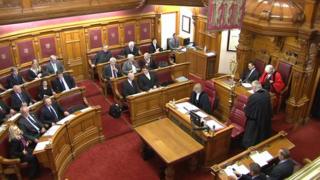 Politicians in Jersey should receive no pay rise until 2018, according to the States Members Remuneration Review Body.
Its recommendations, published on Tuesday, suggest the current £42,600 salary and £4,000 expenses should be combined.
The panel also recommended the introduction of contributory pensions and the abolition of IT allowances.
Despite the pay recommendation, the panel will conduct annual reviews.
Julian Rogers, chairman of the Review Body, said the recommendations were being published ahead of the October general election so candidates were "fully aware" of the remuneration available for the duration of the next assembly.
"Having taken everything into account we concluded that the current total remuneration figure of £46,600 remains appropriate for the next three and a half years," he said.
Mr Rogers also said matched pension contributions would amount to a real increase in remuneration.
The recommendations will be put to the States after the election.