Equality 'will be election issue' in Jersey ballot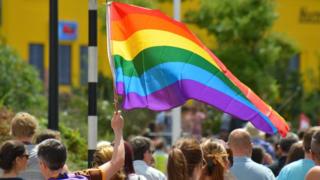 Gender equality will "inevitably" be an issue in Jersey's forthcoming general election, says the new co-ordinator of pan-island rights group Liberate.
Vic Tanner Davy said he does not want the issue to be divisive.
On Thursday, Liberate announced the formation of a Jersey branch, following its first meeting on Wednesday.
The meeting coincided with the launch of a public consultation over proposed same-sex marriage legislation.
'Seal of approval'
"We're really pleased with [the consultation]. It's got our seal of approval," said Mr Tanner Davy.
"They've been very careful in the way they've worded the document to be mindful of some of the church groups' feelings on the matter.
"It's inevitable that it will be an election issue, there's no getting around it from either side. But as far as Liberate is concerned we don't want it to become a 'them and us' situation.
"It's about educating people about the options being put forward rather than becoming a confrontation."
The consultation closes on 22 October, one week after the election.
Liberate was formed in Guernsey in February and its chairman, Martin Gavet said he is thrilled that the charity is now "truly" pan-island.
"It is great that Jersey has formed a branch of Liberate to help to support the LGBT [Lesbian, Gay, Bisexual and Transgender] community in our sister isle.
"This is a shining example of how the islands can work together on important issues affecting Channel Islanders' daily lives".